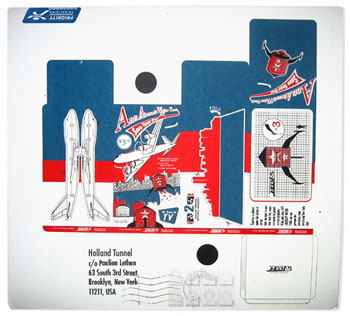 image: Machiel Pleijsier
'Retour Afzender' ('Return to Sender')
Installation by 59 students of the Willem de Kooning Academy, Rotterdam, the Netherlands in the HollandTunnel Galery, New York
opening reception: saturday 11th October 3 to 5 pm
opening hours:
saturday 11th and sunday 12th October 1 - 5  pm
Over 50 postal items are being sent from Rotterdam, the Netherlands to the HollandTunnel in NYC. Students at the illustration department of the Rotterdam based Willem the Kooning Academy make a personal statement, wish or expectation through a postal item, which they sent to a metropolis they know only through the eyes of CNN and sitcoms, but now will discover for real!
During their trip to New York City the students will put together a show at the HollandTunnel that will combine all these postal items into one big installation.
"Return to Sender" marks the starting point of the "HollandTunnel Project" that will take place in the Netherlands from October 2003 until July 2004.
Two replicas of the HollandTunnel garden shed will make the trans-atlantic cross over from NYC to Rotterdam. There the Rotterdam based artist initiative MORGEN in collaboration with the Willem de Kooning Academy, will re-examen defenitions such as "tunnel" and "connection".
CHECK OUT THE WEBLOG
HollandTunnel
c/o Paulien Lethen
61 South 3rd Street
Brooklyn, NewYork
11211, USA
t 001 718 384 57 38
Publicity coördination: Theo Seesing: >t.seesing@hro.nl<
Project coördination: Angelique Viester: >angeliqueviester@xs4all.nl<
Production coördination: Frans van Lent >mail@fransvanlent.nl<